Huge success🤯 $11,350 raised!
The $8,534 total on this website is calculated in USD. This converts to approximately $11,300 CAD. $8,800 total donations from generous donors + $2550 of matching donations.
Thanks to all that have donated!
You can watch my archived live stream here: https://www.youtube.com/playlist?list=PLqf0nFYcQPUtEJpAuJBgK8HhBGlRBSfhC
Donate
💰 Please donate by clicking on the donate button at the top of this page. Patsy Hui will donate an additional $10 for each unique donor. See below for additional matching donation opportunities.
You can choose USD🗽 or CAD🍁 currencies when donating by credit card. PayPal and AmazonPay is only able to charge in USD.
2022 Extra Life
This year, I am bringing back my favourite movie franchise and doing Star Wars once again. Please check my fundraising page regularly as I will be updating it with more event information. Click on the YouTube video below for a fun introduction.
"Help me 'Oh-Be-Good-And-Donate'. You're my only hope."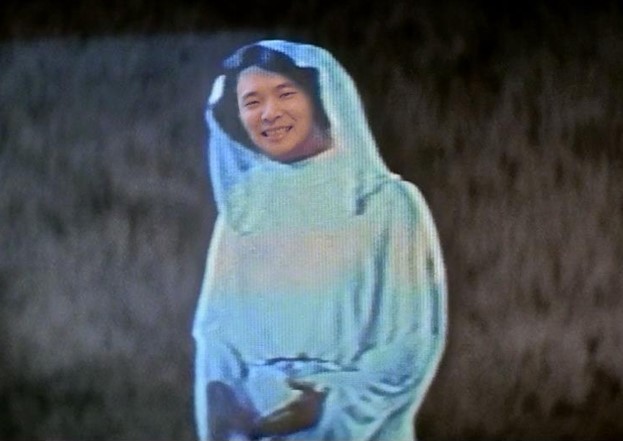 Generous donors, years ago you supported my campaign in the Extra Life event. Now I beg you to help us in our struggle against childhood diseases. I regret that I am unable to present my fundraising request to you in person, but my progress has fallen behind expectations, and I'm afraid my mission to bring more donations to all the kids have failed. I have placed information vital to my fundraising efforts into this website. Even your father would know how to donate. You must see this website and make a donation in support of BC Children's. This is our most desperate hour. Help me, generous donors. You're my only hope.
Who am I
Welcome to my Extra Life fundraising page. This will be my 10th time doing the Extra Life event. I have raised $53,193.51 for BC Children's Hospital since I started doing Extra Life back in 2013. I love Star Wars and played a lot of video games when I was young. I am also a computer enthusiast. I work for BC Children's Hospital Foundation where I learned about this event.
I had lots of computer troubles recently and it's been six years since I've upgraded my computer, so I decided to buy a new computer. I will be playing Star Wars computer games like I did back in 2014 except with newer games such as Jedi: Fallen Order and Squadrons.
My marathon will begin streaming from here and my YouTube channel. The plan is to start Saturday, November 5, 2022 8:00am.
Once again, all donations of any amount on this website will be matched by at least $10. My #ExtraLifeChallenge donation bonuses will be making a return, as well additional bonus donations.
Challenges
Based on the amount you donate, you can challenge me to complete activities listed below. These challenges will result in more matching donations! You may allocate your donation to multiple challenges. For example, if you donate $100 CAD, you may request for me to add 6 dice to the tower, ask me a Star Wars trivia question ($10), then the remaining to have me do Let it Roll challenge 4 times. The best way to send me the challenge is through the YouTube live chat during the event. However, when you make the donation, you can choose the option to send me a message where you can specify your challenges. You can also contact me via Skype (username: SurfWarrior), email or Google Chat (aaronhui77 'at' gmail.com). BCCHF staff can contact me on MS Teams.
All prices below are in 🍁Canadian CAD🍁
$10 – Dice Tower Challenge. I'll have a webcam set up on a tower of dice. For every $10 you can challenge me to add a dice to the tower. When the tower collapses, a matching $50 donation will be made for each time the tower collapses plus the resulting values on the collapsed dice will be added up as additional bonus donation dollars. The Extra Life logo on the 6-sided dice will be valued at $10 instead of $6. (See also: Challenge Bonuses). For $50, I will do a bonus dice and add six dice to the tower. The first dice on the tower will be a 20-sided die!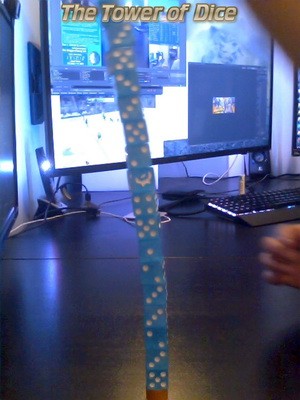 A tower of Extra Life dice about to fall over
$10 – Star Wars Trivia Challenge. Ask me a Star Wars trivia question. The question must be answerable based off Star Wars canon movie content and is easily verifiable (by a Google Search or quickly reviewing the movie), excluding credit information (So no "Who is the actor that played Gold 5?" type questions, please). (See also: Challenge Bonuses). If you don't have a specific questions, I can roll for a random Star Wars trivia challenge.
$10 – 🎲Let it Roll🎲 Challenge. (A good option if you don't have a preference). I'll roll two six-sided dice and do one of the following:

2 - 10 more minutes⌚ - I will add an additional 10 minutes to my marathon
3 - Add 5 dice to tower - I will add 5 more dice to the tower🎲🎲🎲🎲🎲
4 - Push-ups - I will do as many push-ups💪 as I can. $1 matched for each push-up.
5 - BB-8 Sphero Course - I will race my Sphero around a course🏁 laid out on my desk. If I fail to complete the course, I will match $20. This course goes around my dice tower.
6 - One-handed Lefty mode - I will play the game using just my left hand👍 for 2 minutes. If I get killed in the game, I will match $20.
7 - Star Wars Trivia Classic - I will play my custom Star Wars Trivia game based on the original trilogy movies.
8 - Star Wars Trivia Prequels - I will play my custom Star Wars Trivia game based on the prequel trilogy movies.
9 - Star Wars Trivia Sequels - I will play my custom Star Wars Trivia game based on the sequel trilogy movies.
10 - Sit-ups - I will do as many sit-ups as I can. $1 matched for each push-up.
11 - Reveal Childhood photo - I will display a childhood photo👶 on my stream.
12 - Change my T-Shirt - I'll change my shirt👕 to another Extra Life or Star Wars T-Shirt
In addition to doing the above, when I roll the dice, if any 6 on either die shows, that would be considered a critical hit and $10 will be matched AND I re-roll the dice. Also, if a matching pair occurs, e.g. 3 and 3 = 6, I'll do the above action AND two dice will be added to the Dice Tower.
If any of challenges from 4 to 12 do no occur, then I will do that one time during the marathon near the end of the event.

$20 – Try Not To Laugh Challenge. 🤣 You have two options for this challenge. You can send me a link to an online video. I'll watch the video up to 1 minute, and try not to laugh or smile. Or, you can Skype in live and try for 60 seconds to make me laugh or smile. (See also: Challenge Bonuses)
$50 – Head-to-Head Challenge. 🎮 Challenge me to one of the head-to-head multiplayer video games. More details here. (See also: Challenge Bonuses)
$50 – 💣Keep Talking And Nobody Explodes💥 Challenge. Join in live on video and/or audio using Skype, MS Teams, Zoom and help me defuse a bomb. (See also: Special Challenge Event)
Please send me suggestions. I will continue to add and adjust this list. I can only complete these challenges prior to the end of the event, so please let me know what challenges you would like me to do as soon as possible.
🏆Challenge bonuses🏆
Patsy Hui is once again sponsoring my Extra Life event and will make bonus donations if I succeed or fail specific challenges. Last year, we raised a bonus of $1,600 from these challenges that go directly to help support sick kids!
$20 - Aaron fails a Star Wars trivia challenge. For those who challenge me offline, then I will randomly (dice throw) determine the type of challenge. Here are the parameters which also apply to the Let it Roll:

Complete the original trilogy round robin of Video/Still images/Audio only and Subtitles in 60 seconds
Complete original trilogy still images in 30 seconds
Complete the prequel trilogy movie trivia in 60 seconds
Complete the prequel trilogy round robin in 90 seconds
Complete the sequel trilogy trivia in 90 seconds
Do a random trivia from the trivia book

$50 - Aaron fails a Try Not To Laugh challenge (an audible laugh or snort). $30 if I crack a smile. $20 if I can hold a straight face.
$50 - Aaron loses to a head-to-head multiplayer game.
$50 - The Dice tower collapses + bonus $ depending on the values that are rolled. (It will be reset for additional rounds. Any 6 that rolls will be counted as $10. If the 20-sided dice rolls a 20, then $50 will be matched). At the end of the marathon, I will knock over the tower with whatever dice are on it.
$75 - Successful bomb defusal. (*see Special Challenge Events)
$1 for every minute I am asleep. Two years ago, I fell asleep near the end of the event.
Special Challenge Events
💣Keep Talking And Nobody Explodes💥 Challenge. Donate $50 and you can choose this challenge. Viewers from the YouTube live stream can help me defuse the in-game "bomb." Anyone can also help by typing into the Live Chat or by Skyping or calling in. The bomb defusal manual is available at http://www.bombmanual.com.
The game parameters will be 8 minutes to defuse a bomb with 5 random modules. Needy modules and hardcore mode are off. If we are unsuccessful in defusing a bomb, $10 will be added to bonus donations for each module within the bomb that is successfully deactivated. So, if we happen to complete 4 of the 5 modules, $40 will be added.
Milestone Challenge Goals
If I reach certain milestones (detailed at the top of the page) prior to the end of my marathon, I will do those challenges. These challenges are counted in USD on the website and does not include the matching donations made by Patsy.
The BCCHF Extra Life team is trying to work with Linus Tech Tips to get my exclusive Extra Life Gaming Chair autographed by the LTT team for an auction to raise hopefully big funds! I'll donate my chair valued at $5000 to them if I raise $3000. I'm pretty sure my autograph will lower the value of this chair. 🙄
Game Schedule
This Saturday, November 5, 2022 from 8am to Sunday 7am. Daylight saving time ends this weekend.
If I reach the milestone of $7000 before the event ends, I will play an extra hour. One of the dice roll challenges will also add time to my event.
I'll be doing challenges on demand and will take breaks during the marathon when convenient.