2021
Thank you! $8,363 raised in 2021!
$5,395 USD on website = ~$6,763 CAD + $1600 Patsy Hui bonus donations = ~$8,363
I finished the game on Normal difficulty and also the Secret Cow Level! 🐮
Archive of the fundraiser on YouTube here: https://www.youtube.com/watch?v=w8242TbYYFo&list=PLqf0nFYcQPUsmSYFHi-1HiJDMJ9fLYDH1
Who am I
Welcome to Aaron Hui's Extra Life fundraising page. This will be my 9th time doing the Extra Life event. In the past, I have done 24 hours+, but I am getting old and last year, I was unable to complete the full time. So this year, I will be doing a 16 hour gaming marathon only. Once again, all donations of any amount on this website will be matched by at least $10. My #ExtraLifeChallenge donation bonuses will be making a return, as well additional bonus donations.
For 2021, I will be playing Diablo 2: Resurrected. I've played the original Diablo 2 a ton, even before the game officially was released way back in the year 2000 (I played in the beta). I remember how devastating it was to lose my hardcore character (level 72), yeesh! This will be a nostalgic experience.
My marathon will begin streaming from here and my YouTube channel. I will be playing on the official date of Saturday November 6.
Donate
💰 Please donate by clicking on the donate button at the top of this page. Patsy Hui will donate an additional $10 for each unique donor.
You can choose between USD🗽 and CAD🍁 currencies when donating by credit card. PayPal only charges in USD.
There is an option to choose anonymous. However, if you do, I won't know who has donated. Please email me and let me know you made the anonymous donation which would be helpful to me.
Please note that the tax receipts are issued in the name specified for the Cardholder for credit card donations or under the PayPal account name if donated via PayPal.
Challenges
Based on the amount you donate, you can challenge me to complete activities listed below. You may allocate your donation to multiple challenges. For example, if you donate $100 CAD, you may request one multiplayer match ($50), three Star Wars trivia questions (3 x $10 = $30) and add two dice to the Tower (2 x $10). The best way to send me the challenge is through the YouTube live chat during the event. However, when you make the donation, you can choose the option to send me a message where you can specify your challenges. You can also contact me via Skype (username: SurfWarrior), email or on Google Chat (aaronhui77 'at' gmail.com).
All prices below are in 🍁Canadian CAD🍁
$10 – Dice Tower Challenge. I'll have a webcam set up on a tower of dice. For every $10 you can challenge me to add a dice to the tower. When the tower collapses, a matching $50 donation will be made for each time the tower collapses plus the resulting values on the collapsed dice will be added up as additional bonus donation dollars. The Extra Life logo on the 6-sided dice will be valued at $10 instead of $6. (See also: Challenge Bonuses). For $50, I will do a bonus dice and add six dice to the tower. The first dice will be a 20-sided die!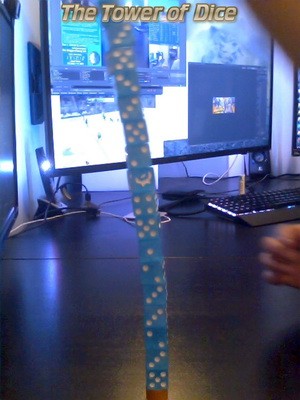 A tower of Extra Life dice about to fall over
$10 – Star Wars Trivia Challenge. Ask me a Star Wars trivia question. The question must be answerable based off Star Wars canon movie content and is easily verifiable (by a Google Search or quickly reviewing the movie), excluding credit information (no "Who is the actor that played Gold 5?" type questions, please). (See also: Challenge Bonuses)
$10 – 🎲Let it Roll🎲 Challenge. (A good option if you don't have a preference.) I'll roll a six-sided die and do one of the following:

1 – One-handed. When playing, I will be restricted to using one hand while playing for two minutes. (See also: Challenge Bonuses)
2 – Pair-A-Dice. 🎲🎲 Two dice are added to the dice tower
3 – Old Skool Graphics. For two minutes, the graphics will be changed to the classic Diablo 2. (See also: Challenge Bonuses)
4 – "Naked". For two minutes, I will play with my character completely unequipped with any items. (See also: Challenge Bonuses)
5 – Lefty mode. For two minutes, I switch hands and use the mouse in my left hand and keyboard with the right hand. (See also: Challenge Bonuses)
6 – Critical Hit. $20 bonus donation made by Patsy and I re-roll the Dice Challenge.

$20 – Try Not To Laugh Challenge. 🤣 You have two options for this challenge. You can send me a link to an online video. I'll watch the video up to 1 minute, and try not to laugh or smile. Or, you can Skype in live and try for 60 seconds to make me laugh or smile. (See also: Challenge Bonuses)
$50 – Head-to-Head Challenge. 🎮 Challenge me to one of the head-to-head multiplayer video games. More details here. (See also: Challenge Bonuses)
$50 – 💣Keep Talking And Nobody Explodes💥 Challenge. Skype in and help me defuse a bomb. (See also: Special Challenge Event)
$100 – Sing A Song Challenge. I will sing an excerpt of a song of your choice for 1 minute. Please ensure there is nothing vulgar in the lyrics and has nothing controversial.
Please send me suggestions. I will continue to add and adjust this list.
🏆Challenge bonuses🏆
Patsy Hui is once again sponsoring my Extra Life event and will make bonus donations if I succeed or fail specific challenges. Last year, we raised a bonus of $1,078 from these challenges that go directly to help support sick kids!
The fun about Diablo is the random loot drops and my bonuses from the challenge events will depend on that.
$2 – Per blue item or gem drop during the two minute game challenge period from the Let it Roll challenge.
$5 - Per Rune drop during the two minute game challenge.
$10 - Per yellow (rare) item drop during the two minute game challenge.
$15 - Per green (set) item drop during the two minute game challenge.
$20 - Per unique (gold) item drop during the two minute game challenge.
$20 - Aaron fails a Star Wars trivia challenge.
$20 - Aaron fails a Try Not To Laugh challenge.
$50 - Aaron loses to a head-to-head multiplayer game.
$50 - The Dice tower collapses. (It will be reset for additional rounds.)
$75 - Successful bomb defusal. (*see Special Challenge Events)
More to come!
Special Challenge Events
💣Keep Talking And Nobody Explodes💥 Challenge. Donate $50 and you can choose this challenge. Viewers from the YouTube live stream can help me defuse the in-game "bomb." Anyone can also help by typing into the Live Chat or by Skyping or calling in. The bomb defusal manual is available at http://www.bombmanual.com.
The game parameters will be 8 minutes to defuse a bomb with 5 random modules. Needy modules and hardcore mode are off. If we are unsuccessful in defusing a bomb, $10 will be added to bonus donations for each module within the bomb that is successfully deactivated. So if we happen to complete 4 of the 5 modules, $40 will be added.
Stretch goals
For every $1000 USD I raise, I will play an additional hour which is calculated before any sponsored bonus donations.
Game Schedule
9:00 AM-1:00AM* – Playing Diablo 2 Resurrected.
I'll be doing challenges on demand and will take a break from my current game as soon as it is convenient.
FAQ
How do I donate in Canadian Funds?

If you use PayPal, the amount will be charged in USD. To be charged in CAD, you must select the credit card option and then you can choose the CAD option.
When you choose CAD option, your credit card will be processed in CAD so you should not incur any foreign exchange fees.
You'll see an option to cover processing costs. I recommend to keep this option unchecked. BC Children's Hospital will still get 100% of your donation whether or not you choose this option.
If you choose the option to "cover processing costs," all it does is increase your donation value by 7%. You will receive a tax receipt for the full amount you were charged, and BC Children's Hospital Foundation will receive the full amount that you have donated.
Ideally, please do not choose the anonymous option when you make a donation. If you did by mistake, please email me and mention when you made the donation so I can properly credit you with the donation. If you truly want to remain anonymous, by all means!
The website fundraising total will count your donation in USD, so even though you made a $100 CAD donation, it would show up as a number around $80, although your credit card would be charged $100.00. Your tax receipt will be in the full CAD amount.

When do I get my tax receipt?

Although you get an email confirmation and a valid US tax receipt immediately after making your donation, Canadian donors will receive a separate tax receipt which will be emailed out later in February 2022 for your donation.

Can I combine my donation with a friend of mine to challenge you?

No. You cannot combine your donation with another donor for the purposes of challenges.

How much should I donate?

The more the merrier! Even if you donate only $1, an additional $10 will be made by Patsy Hui which would be a total of $11 going to help sick children. The bonus $10 donation does not count towards the challenge donation.

Can I Skype you during your Live Stream?

For a minimum donation of $20, you may Skype in. Please make arrangements with me and send me a message through the YouTube chat first. Your webcam will be displayed on the Live stream. Please be courteous and keep it clean.

What happens when the dice tower falls?

I'll keep track each time it falls for any reason. At the end of the event, $50 will be donated by Patsy for each time it collapses. If you challenged me to stack multiple dice, and it has collapsed before I move them all, then a new tower will start so any remaining turns won't be wasted.

I've already donated and I haven't sent you my challenge. Is it too late to do so?

Not at all! You can contact me in the Live Stream during the event, or email me beforehand. If you want to witness it, it is best to message me through the live chat on YouTube. However, the broadcast will be archive if you want to view it later.

Is your total raised on this webpage measured in CAD or USD?

The website total shows in USD value, if I get a $100 CAD donation it will add about $80 to my fundraising page here. I will convert the USD back to CAD when calculating for the challenge bonuses. So if I see $40.30 USD donation, I'll assume you made a $50 CAD donation and you can request a $50 challenge for me.